Well, since you asked…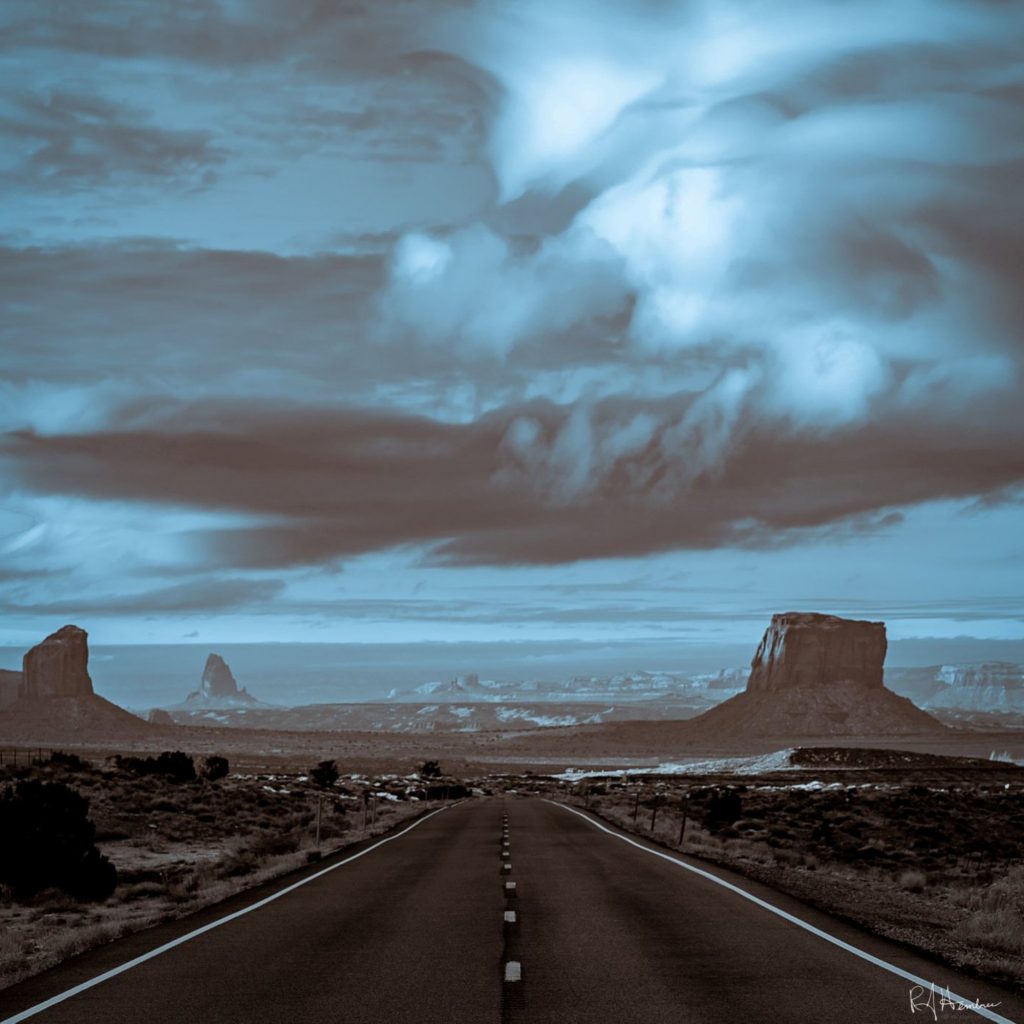 Check out this excerpt of an amazing photograph "Into the Valley" by my friend Bob Hembree. An impressive vista, isn't it? It was taken December 4, 2018 at Monument Valley, Utah. I've licensed this photo for use as the album cover of Quicksilver Night's forthcoming all-instrumental "Asymptote" album, a hugely eclectic offering that I hope to release both digitally and on CD later this year (but to be honest I'm probably overly optimistic about the time frame).
An all-instrumental album might seem a little bit like an odd choice but I'll tell you how it came about. I posted this earlier in the year and it still applies for the most part so rather than reinvent the wheel:
"My musical output in terms of instrumental parts far exceeds my ability to write meaningful lyrics and as a result I have a huge backlog of instrumental pieces, most them guitar-driven, just waiting for the right axe slinger to come along and make those songs his or her own. To this end I'd like to announce a forthcoming full-length instrumental album by Quicksilver Night . . . covering a range of rock subgenres. We will begin recording this album in early 2019 upon completion of the "Presque Vu" EP and intend to release it – in digital and on CD – before the year is over." But wait, there's more…
You might notice that little gap in the quote above; taken from my old website, it used to say "…featuring the incredible Jason Cale on guitar…" but that's no longer entirely true. I realized that it was unrealistic of me to expect Jason to give me an entire album's worth of melodic and solo material in such a relatively brief time and thusly simultaneously bottleneck both my workflow and his. He's got numerous other musical projects going on; I'm thrilled to be a small part of it but I don't intend to monopolize his time. At the moment the "Asymptote" album is set to include the following songs, all of which are well-into the tracking phase and in some cases already nearly finished (in alphabetical order):
1. "Dream Sequence Gunmen" – featuring Nazim Chambi, a fun but driving instrumental rock song that reminds me of a hybrid of "Tomorrow Never Knows" and "Highway Star"
2. "Hephaestus the Cuckold" – featuring Farzad Golpayegani, a powerful prog metal number replete with ringing anvil strikes
3. "Mister Wizard" – featuring Jason Cale, is odd-meter funk with elements of prog, blues, and a whiff of jazz
4. "Power Curve" – featuring Jason Cale, as the title suggests, is powerful and melodic, sort of Van Halen meets Argent in Ozzy's living room
5. "Trompe L'Coeur" – featuring Nazim Chambi & Anne Epperly, piano-driven and classically-inspired with melodic electric guitar passages and sweet flute interludes
In addition, by way of a heads-up: I can guarantee you some neoclassical flash from my good friend Milt Gore but we haven't titled the track yet. I also have a tentative agreement with Gordo Bennett regarding the song "Continuity" but scheduling remains problematic; we'll see. I've gotten positive responses from Jeremy Barnes, Andrew Negoustorov, and Jay Rakes regarding their involvement but we haven't yet hammered out specific details; I will do my best to keep you informed as meaningful updates become available.
As to any questions about the chosen title, you can easily look up the definition of "asymptote" but you might be wondering why I chose it as a title. It's not arbitrary; I've actually long been fascinated by the idea of a line getting ever closer but never quite reaching something, always approaching but never quite getting there. It's a mathematical term that has useful philosophical implications in my book. The story of why I actually chose "Asymptote" as the title has to do with two things: 1) My working title of the album was "Mister Wizard" after the track of the same name but once I expanded the album to include other featured artists I didn't want to name the album after one of the tracks and perhaps thusly create the impression that I value the musical contributions of any one of my collaborators over that of another and 2) I was looking at Bob Hembree's "Into the Valley" and thinking in terms of vast distances and the idea that the horizon might appear close or distant but we can never quite reach it because we perceptually create it ourselves.  While the road might be suggestive of a line toward the horizon I was thinking of it as might allegorically pertain to our lives and our ambitions.