PRESQUE VU, OCTOBER SKIES, & HOMECOMING

Quicksilver Night's "Presque Vu" mini EP is a trio of drivingly melodic songs, progressive but rooted in classic rock with Celtic overtones and Gothic undercurrents. It available at multiple digital retailers, including the following:
Amazon >> https://www.amazon.com/gp/product/B07QW4FY3Y/ref=dm_ws_sp_ps_dp
Apple Music >> https://music.apple.com/us/album/presque-vu-feat-meagan-finning-and-jason-cale-single/1460540806
Deezer >> https://www.deezer.com/us/album/94317912
Pandora >> https://www.pandora.com/artist/quicksilver-night/presque-vu-feat-meagan-finning-and-jason-cale/ALVtrZ3cvvj9wVK
and Spotify >> https://open.spotify.com/album/6PB2zm3wrEmClAsoMxa5if
BONUS! Direct download of the "Presque Vu" mini EP at bandcamp via https://quicksilvernightproductions.bandcamp.com/album/quicksilver-night-presque-vu-mini-ep comes with a lyric booklet and a free bonus track of Quicksilver Night's 2016 single "Exeunt" featuring Meagan Finning on vocals and Milt Gore on lead guitar.
Please check out this fine review of the "Presque Vu" Mini EP: http://www.progressor.net/review/quicksilver_night_2019.html
All three songs feature Meagan Finning on vocals and Jason Cale on lead guitar, details below.
The title track "Presque Vu" describes the sense of impending change, the feeling that some almost seen truth is about to make itself known, that some life-altering event is about to occur. "Still I can't help but feel there's more intended for me by this life."
Celtic-tinged with classic rock roots, "October Skies" is about the sense of home as a place where one's very bones seem to resonate with the landscape. I wrote it to describe my distant childhood home in the Allegheny foothills, the overwhelming feeling of belonging there when I visit and the absolute surety that I will return someday for good.
"Homecoming" speaks to mortality and nostalgia when a return to a childhood home is necessitated by the death of a close family member. "Stand in the open doorway. Breathe of the dust and shadows and then say goodbye to the ghosts that fill this room, turn and walk away…"

The ringing crystalline timbre of Meagan Finning's voice can be found throughout much the Quicksilver Night catalog going back to the beginning and was last heard on Quicksilver Night's 2016 single "Exeunt" as she had moved away during post-production. Happily for us here at Quicksilver Night she's back in her hometown of Newport News, VA now and singing once again.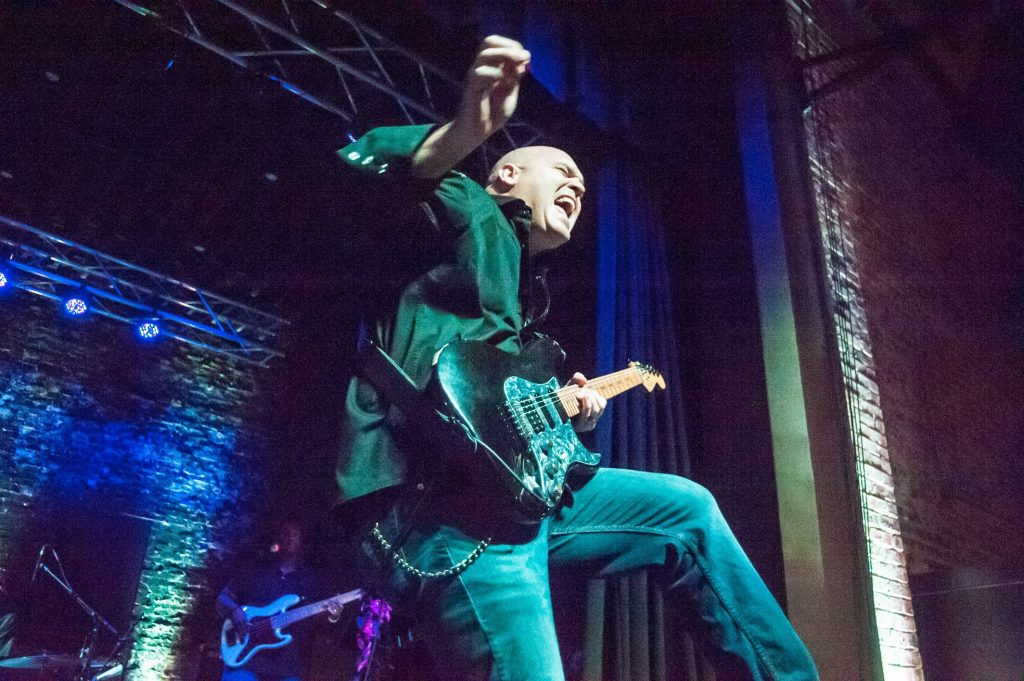 Jason Cale is a singer/songwriter and guitarist from South Mississippi. After traveling the world performing all styles of music he now makes his home in the Hampton Roads area of Virginia. Eclectic beyond measure and a consummate professional, he regularly performs throughout the region with different groups in various configurations in a dizzying array of musical styles.
Meagan Finning performed lead and harmony vocals throughout the album
Jason Cale performed lead solo guitars throughout the album along with acoustic guitar on "October Skies" and backing vocals on "Presque Vu"
Warren Russell performed rhythm guitars and everything else throughout the album, real or virtual, including harmony fill guitars on "Presque Vu"
Music & Lyrics by Warren Russell (ASCAP)
Recorded by Alex O'Loughlin at Sandcastle Records in Nashville, TN and Jason Cale at Crabhouse studio in Hampton, VA
Mastered by Borislav Dimitrov (aka Boro) at HiZ Productions, Los Angeles, CA
Produced by Warren Russell and Alex O'Loughlin
Album art by Randall Lee from original 2019 photo courtesy Bella Amori Photography by Victoria Holden, All Rights Reserved